Posted on 23/8/2022

10 Digital Marketing Tips for Small Business in 2023
Looking to grow your small business in 2023? Check out our 10 digital marketing tips for small businesses! From optimizing your website to creating engaging content, our tips will help you enhance your online presence, reach your target audience, and increase your conversions. Follow our advice and take your small business to the next level with digital marketing!
By Manohar • 23/8/2022 • 9 min read
10 Digital Marketing Tips for Small Business in 2023
Digital marketing is essential for all businesses, regardless of whether they are established businesses or a startup. It's becoming more important than ever for business owners to invest in digital marketing strategies in order to promote their brands, remain competitive, and stay ahead of the competition, given the popularity of social media platforms and other technologies.
You may be a busy entrepreneur and wonder where, to begin with, this small business marketing. We are here to help. We have compiled 10 top digital marketing tips, with advice from industry professionals.
Table of Contents
Mobile optimization of your website

Register for a Google My Business account

Digital marketing requires you to understand your customers and target audience

Invest in local marketing

Create a blog, and include content marketing in your SEO strategy

Choose the right social media platform for your business

Encourage customers to leave reviews online

Digital advertising

Respond quickly to customer feedback

Monitor your campaigns
Small Business Digital Marketing Tips
It can be hard to create a digital marketing strategy. After all, there are so many facets to the internet world. However, it's important to keep in mind that not all areas of digital marketing need to be covered by your business. It's likely that you will be more successful if you focus on a few strategies, especially if you're just starting your business.
These digital marketing tips can help you promote your business online, regardless of whether you are a business owner, a startup, or an established company.
1. Mobile optimization of your website
Mobile marketing is becoming more important than ever. More consumers are browsing the internet and shopping on their mobile devices. Even though investing in mobile-specific digital marketing can be costly, especially for those just beginning in the field, it's worth taking the first step to ensure that your website is mobile-friendly.
This is a great digital marketing tip for those who have already paid for a web builder or eCommerce platform. If you wish to purchase a premium theme or use other tools that are not included, you will only need to pay an additional amount.
2. Make a Google My Business Listing
A "Google My Business" listing is one of the most simple and free digital marketing tips that we can share. You can search Google for a business to see if you don't know what this listing is. You can see that the listing on the right-hand side contains basic information about the business including its address, hours, and a link to the site.
A Google My Business listing is a great way to give current or potential customers important information about your business. You can edit your listing by claiming your existing listing or creating one for your company.
Once your listing is complete, you now have a long-lasting digital marketing strategy through Google. Don't forget to update your listing if you change any information about your business.
You can actually refer to our guide to find out more about optimizing your Google My Business Listing.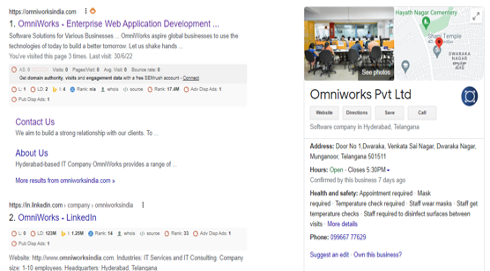 3. Digital marketing requires you to understand your customers and target audience
You probably know that understanding your customers is key to marketing. What are their likes and dislikes? What are their responses?
The same principle applies to digital marketing. To have a successful strategy for digital marketing, you need to not only understand your customers but also identify your customers online. Your target audience for digital marketing may be different from your target audience through word of mouth and direct mail marketing.
4. Invest in local marketing.
Let's jump to our last tip: If your business is located in a specific market, you will want to use digital marketing strategies that appeal to and relate to this audience.
You can create a Google My Business listing and also claim or edit your listing on other local directories like Yelp, Bing places for businesses, and others. You can also consider other local marketing strategies such as:
Create Google or social media ads that target your area

In your area, implement a direct mail campaign

Participating in or hosting a community event
These strategies may be outside of the realm of online marketing but you can tie them together by including your website and social media handles in any information or materials you distribute to your local community.
5. Create a blog, and include content marketing in your SEO strategy
Although content marketing is only one aspect of digital marketing, it can have a significant impact on your ability to attract customers and drive sales. It is easy to start a blog for your business.
Your blog can be written about business topics, showing your expertise, and providing useful information. This will help you drive traffic to your site, as well as improve your search engine rankings.
6. Choose the right social media platform for your business
Social media marketing is a sub-field of digital marketing that, like content marketing. It is also important. Small Business Marketing Statistics indicate that 74% of consumers use social media to help them make purchasing decisions.
However, social media can be complicated and constantly changing. It may also require more effort than you think. Instead of trying to be the best on every social media platform, this digital marketing tip might work for you: Choose the right social media channel for your business, and then focus your efforts there.
7. Encourage customers to leave reviews online
The best digital marketing tip is free! Encourage customers to leave reviews online and moderate your company's profile on review websites.
You can also claim your business listing on Google, Trustpilot, and other local sites. To encourage customers to leave reviews about your business, you can put signage at your location or link to your website.
You'll then want to keep an eye on your reviews and respond quickly to any negative reviews. You should aim to maintain a rating of at least four stars.
Despite all of this, there are two main benefits to this tactic. You can build relationships and continue to interact with customers. Second, you can use customer reviews to influence potential customers to visit your business or purchase from it.
8. Digital advertising
While some of our digital marketing tips have been focused on organic SEO and social media strategies so far, it is important to keep in mind that these strategies are not without limitations. Particularly for beginners and startups, standing out in the digital space can be difficult due to the high competition and the influx of posts and promotions.
If you are willing to invest a bit, digital advertising is worth considering. You can choose the best keywords and target the audience you want. This will allow you to narrow down your potential customers.
You can also use digital advertising to target local customers, within a certain age range, in niche markets, etc. If you choose to advertise through Facebook you can use the Facebook Ads platform. This allows you to be very precise about where and you place your ads.
You can also take advantage of the many retargeting tools available on these platforms once you have started advertising via digital channels. Retargeting tools allow you to target consumers who have purchased or interacted with your business. This will increase personalization and the effectiveness of your digital marketing and advertising strategies.
9. Respond quickly to customer feedback online
It can be easy to lose touch with others when you operate in the digital age. You may forget to follow the same customer service procedures as if you were actually interacting in person with customers. However, customer service is an important part of digital marketing and can make a difference in attracting customers or retaining them.
If you want to provide exceptional customer service through digital platforms, you may start by creating a page on your website that allows customers to contact you. You'll need to promptly and thoroughly respond to all comments, questions, or requests that customers make.
You might also consider investing in a chatbot, which can be an especially useful customer service tool for established businesses as well as eCommerce businesses.
Once you have determined how to provide customer service online, you can add these services as part of your value proposition. Online marketing can make your business more accessible and attractive to potential customers by allowing you to provide details about your customer service.
10. You can monitor your campaigns
The last tip in our digital marketing top tips is probably the most important: Don't be afraid to try new things and adapt your strategies as needed. You should remember that not all your strategies will work. However, it doesn't mean that you have failed. It simply means that you have discovered what doesn't work.
Your online marketing efforts will include testing new ideas and determining what works best for your business.
For example, you could launch a Facebook advertising campaign to promote a new product that doesn't perform as well as you expected. These insights will help you decide what you can do next to improve or modify the campaign. Or, you may find that Facebook isn't the right platform for you.
Conclusion
These digital marketing tips will give you an idea of where to begin when it comes to promoting your business online. Despite this, not all strategies work for every business. You should be open to trying out new strategies and ensuring that your business is successful. Remember our last tip: Don't be afraid of trying something new and then scrapping it if it doesn't work.
Digital marketing and the digital landscape as a whole are constantly changing. Your strategies should be updated accordingly.