Posted on 29/12/2022

5 Reasons to Use Omniworks Clinic Management Software
If you're looking for clinic management software that was designed with the healthcare system in mind, then you need to look no further than Omniworks. learn more about its features and benefits here.
By Manohar • 29/12/2022 • 7 min read
5 Reasons to Use Why Omniworks Clinic Management Software is a must for Clinics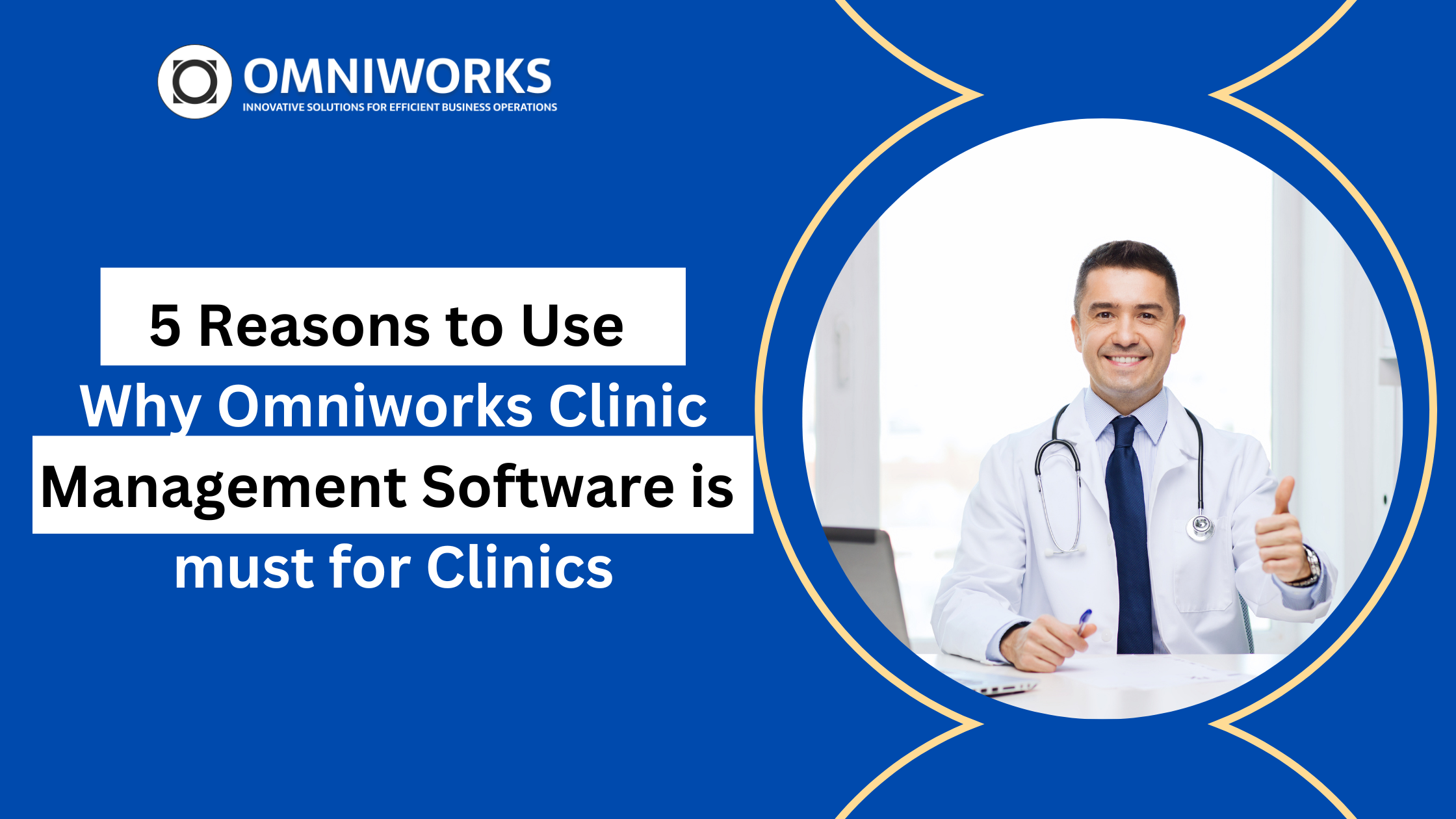 If you're running a clinic or hospital, then you need clinic management software - and Omniworks is the best option out there. Omniworks was designed with the healthcare system in mind, and its features make it an essential tool for managing patients, records, and appointments. Not only that, but Omniworks' secure network lets you share data with other healthcare professionals within your organization, ensuring that your clinic runs as smoothly as possible. So why wait? Get your copy of Omniworks Clinic Management Software today!
Clinic Management Software
Clinic management software is a valuable tool for any clinic. Omniworks Clinic Management Software is one of the best options on the market and offers a number of benefits that can help you streamline your workflow and operations. For starters, it automates your clinic operations and helps you keep track of patient visits, surgeries, and more. Additionally, the software is versatile and can handle both small and large clinics. It also offers user-friendly features that make management easier than ever. So, if you're looking for clinic management software that can help you improve your clinic operations, Omniworks Clinic Management Software is the perfect option for you!
The Benefits of Using Omniworks Clinic Management Software
There are a variety of benefits to using Omniworks Clinic Management Software. Among these are the ease of tracking your patients and managing your workforce, as well as features like appointment scheduling, electronic health records, and billing. Additionally, Omniworks Clinic Management Software is secure and user-friendly, making it easy to manage your clinic's performance. In addition to all this, Omniworks Clinic Management Software provides real-time data analysis that can help you make better decisions for your clinic business. So what are you waiting for? Give Omniworks Clinic Management Software a try today and see for yourself the many benefits it has to offer!
1. Appointments
Making appointments is one of the most important things you can do for your business. By scheduling appointments and keeping track of patient records, billing, and payments, Omniworks Clinic Management Software helps you run your clinic more efficiently and effectively. Not to mention, it keeps all your appointments so there's never a worry about forgetting anything!
2. Billing
Billing is an essential part of any medical practice. Automating your billing and payment process, it helps to reduce the time you spend on administrative tasks. It also keeps track of your patient's records and appointments, as well as their claims history. Furthermore, billing software provides reports that allow you to see how you are performing in terms of patient satisfaction levels. Additionally, automated reminders make sure that all patient visits and clinic-related procedures run smoothly without any hassle or issue.
3. Patient Records
Keeping clinic records securely in one place is essential for ensuring that patient data is always safe and accessible. By using an electronic health record (EHR), you can centralize all your clinic records and ensure they are easily shared with other clinics in your network. This way, you will be able to keep track of changes and incidents as well as monitor patient behavior. Notifications also help ensure that you stay up-to-date on any changes or updates related to the patient's medical history or treatment plans. Doing so helps you better manage care for each individual patient, making them feel more comfortable and satisfied with their healthcare experience.
4. Safety & Security
The clinic management software is essential for ensuring the utmost efficiency and accuracy within clinic operations. It helps to streamline workflow, making sure all paperwork and data are entered accurately and efficiently. This system also keeps everyone in the loop - from medical professionals to finance staff - Ensuring that communication is effectively managed throughout the clinic.
5. Electronic Health Records
Electronic health records (EHRs) are a system that helps to streamline patient care by automating clinic processes. This system centralizes all patient records and data, making it easier for doctors to make informed decisions. Moreover, EHRs help to reduce errors in medical documentation and provide healthcare providers with up-to-date information on the patients they are treating.
Conclusion
Clinics are a necessary part of healthcare and it's important that they are managed efficiently. Omniworks Clinic Management Software provides a user-friendly platform that makes managing your clinic a breeze. Not only does this software offer a wide range of benefits, but it's also affordable and easy to use. Make sure to check out our website to learn more about Omniworks Clinic Management Software and the many benefits it has to offer.
Frequently Asked Questions

What are the benefits of using clinic management software in India?
Clinic management software in India can help you streamline administrative processes. This includes things like reducing paperwork and improving data accuracy. Additionally, such software can provide you with real-time patient information, making it easier for you to care for patients and keep records of their medical history. It can also help to facilitate communication between the clinic and its patients.
How do you choose a good clinic management software in India?
When choosing a clinic management software in India, it's important to do your research. Make sure to consider the features and functionality of the software, as well as its user interface and built-in support resources. Additionally, be sure to look at customer reviews and ratings to see if it's a good fit for your business. Make sure that the software is compatible with your existing hardware and systems, and that it has a subscription fee that you're comfortable with. Finally, be sure to have a backup plan in place in case anything goes wrong with the software.
What features should be included in good clinic management software?
A good clinic management software should include the following features: 1. Patient scheduling: This is an essential feature because it allows you to manage patient appointments and keep track of their progress. 2. Prescription management: It's important to have a system in place that tracks and records all your patient's prescriptions. 3. Medical billing: Make sure to have software that can process billing and medical insurance claims accurately and efficiently. 4. Security: Always make sure to protect your clinic's data with secure data encryption. 5. Referral tracking: This will help you keep track of who is referring patients and how many are being referred. 6. Lab integration: This can be helpful in connecting your clinic to various labs for testing and reference purposes. 7. Advanced features: If you're looking for features such as analytics, AI chatbot integrations, or e-prescribing, then you should consider investing in good clinic management software.
How can I configure my clinic management software to meet my specific needs?
If you're looking for clinic management software that can be tailored to meet your specific needs, then consider trying Omniworks. This software can be configured to handle patient data, scheduling, billing, and more. Additionally, the software can automate reminders for appointments and payments. Additionally, you can customize the look of the software with different color schemes and logos. Omniworks also offers 24/7 customer support to help you configure the software as needed. So don't hesitate, try Omniworks today!