Posted on 23/1/2023

Top Digital Marketing Interview Questions and Answers in 2023
To make it easy, we have prepared the ultimate digital marketing interview questions list. They are applicable to businesses of all sizes and in all major industries.
By Manohar • 23/1/2023 • 9 min read
Top Digital Marketing Interview Questions and Answers in 2023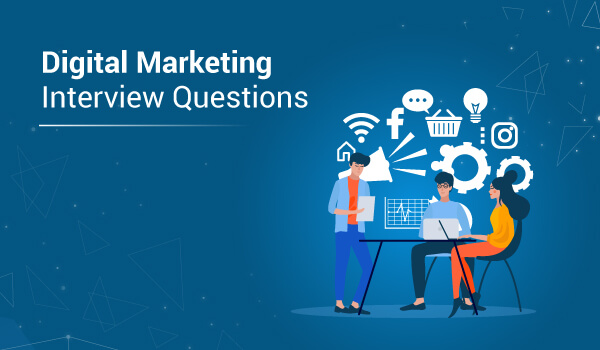 Digital marketing is in demand because of the way it affects businesses. It can be a game-changer for the way customers experience your brand. The way digital marketing is done today has evolved rapidly, and the skills required to succeed in digital marketing have also widened. In digital marketing interview questions, you will find questions on content marketing, social media marketing, search engine optimization, email marketing, analytics, conversion optimization, website design, and more.
This blog on digital marketing interview questions will cover the most common digital marketing interview questions asked in 2019-2023. These are questions that cover the skills necessary for digital marketing job roles in 2019-2023. Besides preparing for digital marketing interview questions in college or job interviews, you should also prepare for them in case of career growth or if you want to start your own business.
In-demand Digital Marketing Skills in 2023
Digital Marketing is about communicating with individuals, understanding what resonates with them, and delivering this content to them in the best possible way. More than asking your audience to buy a product or service, digital marketers also work towards building a relationship in which the audience willingly chooses you. Learning the top digital marketing skills will help you become a better digital marketer and prepare you for the job market.
1. Search Engine Optimisation
2. Content Marketing
3. Video Marketing
4. Data Analytics
5. Product/ UX Design 6.
6. Social Media Marketing
7. Creative Thinking & Problem Solving
8. Communication Skills
Soft Skills such as good communication, empathy, and curiosity are essential to becoming a successful digital marketer. However, digital marketing skills are necessary for analyzing, creating, and implementing various digital marketing campaigns and strategies. According to a report published by The Economist Group and DMI, 74% of marketing executives recognize that marketing organizations face a talent shortage due to a lack of digital marketing skills. Upskilling in the field of digital marketing can help you acquire these digital marketing skills. Let's check out these Digital Marketing Skills.
Digital Marketing Questions and Answers for Freshers
What is digital marketing?
Ans. It is a process in marketing for reaching target customers in an effective and more accurate manner through digital means like the internet, mobiles, etc. Read more about digital marketing.
Why did you choose a digital marketing job?
Ans. While answering this question, be honest. The interviewer is testing your commitment to the job. So answer it honestly and in favor of the industry that you want to join. Also, show them your interest in the job.
How do you categorize digital marketing?
Ans. It is categorized into two. Inbound and outbound marketing. Inbound marketing uses social media, e-books, webinars, etc. to spread knowledge regarding the company and its products. Outbound marketing uses emails, ads cold calls to reach customers.
Why online marketing is preferred over offline marketing?
Ans. Offline is (more expensive) than online marketing. Online marketing reached a larger audience than offline marketing. A good track can be maintained in online marketing. Offline marketing is restricted to location.
Explain SEO.
Ans. SEO stands for search engine optimization. This technique is used to increase the number of visitors to your website by obtaining a high page rank in Google, Yahoo, Bing, etc.
Explain keywords and their importance in SEO.
Ans. According to digital marketing, the keyword is the phase you enter to search in any search engine to provide relevant search results. In SEO these keywords are crucial to improve page ranking.
What are the most efficient ways to increase traffic to your website?
Ans. It can be increased by building referral links, proving a better user experience, attractive interface, customer engagement, and social media shares.
What is Pay Per Click or PPC advertising?
Ans. It is the technique to direct traffic to your website. You will only pay if your ad gets clicked.
Among likes or followers numbers and engagement numbers, which is better and why?
Ans. Engagement is better because it provides a clear picture of the success of your brand. If your reach is high, then will also be the engagement numbers.
Explain Google AdWords.
Ans. It is Google's paid online advertising model. While you advertise you tell Google, which keywords or phrases you are interested in. This helps in showing your content to the right people at right time.
What are On-Page SEO and Off-Page SEO?
Ans. Off-Page SEO involves actions taken to improve a website's position from outside the website. And On-Page SEO involves actions taken to improve a website's position from inside the website.
What are bad backlinks?
Ans. These are links that are from sites relevant to your site, links from link exchanges, paid links, links from low page ranks, spam links, and links with low traffic.
What should be done to avoid Google's penalty?
Ans. Do not buy links, do not link to bad page rank links, do not use sneaky mobile redirects, don't sell your link, don't use duplicate content, and don't use hidden text.
What do you want to see yourself after five years in this company in the digital marketing field?
Ans. This is to test your ambition toward your career. You need to answer this question with your abilities to progress in the digital marketing field. Think how far can you progress in this company or industry. Answer with full confidence and assure your service extent.
How will your experience in digital marketing help our business?
Ans. Show them why they need your skills to be hired. Show them your abilities, skills, and all you learned in your experience. Show them the situations you did and you can handle in the future. Let them feel that they need you for sure to improve their company ranking or website ranking. Show them the need to hire you right at the moment. Your answer must be unique for this question. So think twice or thrice before you answer this question.
Conclusion
With digital marketing evolving on a daily basis, it is vital to keep your skills up-to-date. You can do this by attending digital marketing-related conferences and seminars, reading digital marketing blogs, and learning digital marketing-related skills on the job. Determining your digital marketing skills is the first step to excelling in a digital marketing interview. Remember, digital marketing isn't just about social media optimization; it's also about content creation and optimization that can help you stand out from the crowd.